Corporate use | Business trip / Training / Company housing Cost reduction measures

Union Monthly
<Corporate contract>
​ 3​ ​
big merits
Deposit key money
Each fee
0
!
The contract is

Daily

Possible with!
* Contracts are for a minimum of one month.
Union Monthly, when you sign up for a monthly apartment,
Deposit, key money and fees are free
!
Therefore, unlike ordinary rental, the initial cost is significantly reduced,
​ ​Effective cost reduction
​ ​is possible.
In addition, you can contract on a daily basis for more than one month, so you can use it efficiently for the usage period.
​ ​The procedure is
​ ​​ ​​ ​​ ​​ ​No need to visit
Union Monthly, you can apply for a monthly apartment without visiting the company. Contract documents are handled by e-mail or postal mail, also we deliver apartment key with special porch by postal mail, so you don't need to visit our office !​ ​
In addition, Union Monthly offers a many rooms which you can move-in immediately, it is good for sudden business trips etc.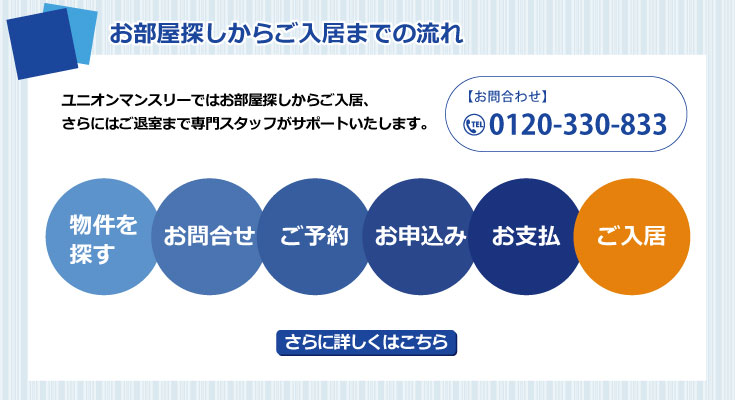 [Deliver to room]
Options choise
Union Monthly, we can provide you with support up to the time you move in, as well as 24 hours a day until you leave. Specialist staff will respond promptly in case of sudden trouble or if you are using. Furthermore, <selectable options> to help you live more comfortably are enhanced! Just select the necessary items from options such as "Mobile Wi-Fi router" required for Internet use and "Renewal (extension) guarantee"! Some household goods will be delivered to your room before moving in. You can make a contract according to your usage with the "rental option" and "service option" services that are convenient for moving in!
Benefits of Union Monthly
If you use monthly from more than one month, you can decide usage period on a daily basis.​ ​
Union Monthly offers contracts for various periods of use, from short stay to long stay.
​

​

Large

​

​ ​number of properties in Tokyo

In Tokyo, Kanagawa, Chiba and Saitama
We have a lot of  properties with good access.
We will offer the best room that suit your purpose.
All properties are within walking distance from a nearest station.

Available​ ​

​

room facilities

Quality furniture and appliances
are installed in all rooms.
We will deliver hotel like quality and​ ​
comfortable place like home.
Concierge service

Someone who doesn't have time to find a room,
Our professional staff will
offer the best room for your conditions,
We will propose to customers.

There are many properties around Yamanote Line, which is popular area,
also the 23 wards of Tokyo, mainly around the Keihin Tohoku Line area.
In addition, Kanagawa (Yokohama, Kawasaki, etc.) and Chiba, Saitama.
There are a lot of properties we handle.
​ ​Corporate use <Recommended properties >
Union Monthly Shinagawa Residence 1

10 mins walk from JR Yamanote Line / Shinagawa Station
Kitashinagawa Shinagawa, Shinagawa-ku, Tokyo

Union Monthly Ikebukuro East Tower 1

7 minutes on walk from JR Yamanote Line / Ikebukuro Station
Higashiikebukuro, Toshima-ku, Tokyo